What We Do
Our business is to generate solar power with a focus on ground mounted photovoltaic systems and we have a current portfolio of 23 solar photovoltaic projects, totaling 589MW, under development, construction or in operation.
We leverage our strong relationships with partners in utility, equipment, EPC, O&M and financing, as well as experienced and reputable consultants and advisors. Our objective is to generate clean solar electricity, focusing on the most secure portion of the solar PV value chain: power plant development, financing, construction and asset management.
Our aim to build a sustainable business with a long term focus is a critical component of our strategy. We believe that assuming responsibility for the environment and the communities in which we operate is strongly linked to our success.
We believe in a world where the price of solar electricity is cheaper than fossil fuels and the future of solar power is limitless.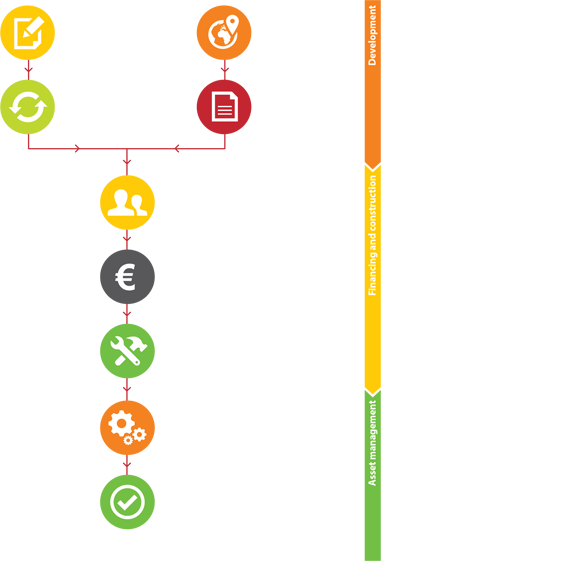 PPA
Secure long term Power Purchase Agreements ("PPAs")
Interconnection
Ensure the solar plant can be connected to the energy grid
Location
Identify and secure suitable land
Permitting
Obtain necessary permits for plant construction
Design
Select equipment and Engineering, Procurement and Construction ("EPC") partner
Project Finance
Secure non-recourse financing
Construction
EPC contractor builds the solar plant under a fixed-price, time limited, turnkey contract
Operations
Optimise plant performance leveraging Operations and Maintenance ("O&M") partners
Loan Compliance
Ensure compliance with financial and non-financial covenants
We identify and secure suitable sites through purchase or long term leases.
Working with selected advisors and developers we secure long term PPAs.
Our technical and commercial teams optimise the design, equipment selection with life-of-plant warranties in place and contractor choice for the construction of solar PV plants to achieve attractive non-recourse financing.
Our tight construction supervision combined with fixed-price, time limited, turnkey EPC contracts guarantees timely completion of our solar PV plants.
We outsource the day-to-day running of the solar PV plants to experienced and financially strong Operations and Maintenance ("O&M") partners which guarantee plant availability and performance ratio.
Our experienced in-house asset management team drives performance through real-time monitoring and issue detection, pro-active management of the O&M providers and issue resolution whilst ensuring compliance with loan covenants.